Umarex MP5 CO2 Metal .177 BB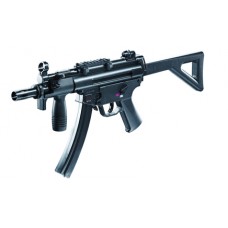 Umarex MP5 CO2 Metal .177 BB
Umarex H&K MP5K-PDW. CO2 .177 Metal BB Air Weapon
Please note this is an official H&K replica of a MP5 it is as near dam it as the real MP5. This is classed as an air weapon and shoots metal bb's (.177).
We are pleased to announce that Solware are one of the main retailers in Europe for the Umarex MP5. We had over 20 backorders just from a picture of release from IWA show in Germany. This has metal parts aswell as abs same as the original weapon.
Here are specs as we know:
Powered by 12g CO2 capsule.
Approx 100 shots per capsule.
Smoothbore.
Capacity 41 rounds steel BB cal .177 (4.5mm).
Blowback action.
Mainly plastic construction.
Folding/removable stock.
Bayonet lock.
Picatinny rail.
Removable flash hider.
Adjustable sights.
Full safety lock.
Semi-auto action.
Power, less than 7.5 Joules – probably 3.5 – 4 Joules.

Age Verification
You must be 18 years of age or older to enter into the site.

You are not 18+ years old. We're sorry, you can't use the website.