Umarex Legends Chrome Cowboy Lever Action CO2 .177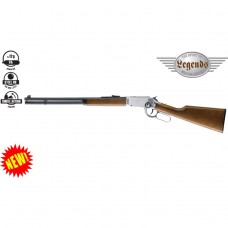 Umarex Chrome Legends Cowboy Lever Action
Chrome Cowboy Lever Action Shell Ejecting Air Rifle
The Wild West comes alive with the Legends Cowboy Lever Action CO2 Air Rifle from Umarex!
The Umarex Legends Series brings to life the classic arms of a bygone era backed by the quality standards and imagination only Umarex can deliver. Taking its style from the Winchester Model 1894, load up and roll out this backyard-friendly version of a rifle regarded by firearm historians as the "ultimate lever-action design".
With shell spitting action, the Cowboy Lever-Action features a realistic loading ability with 10 BB cartridges inserted into its under barrel tube magazine. Insert two 12-gram CO2 cartridges behind the stock's removable buttplate, cock the lever, and you are racked and ready to send 10 shots downrange at 535 fps! Quickly cock the lever to shoot each round and eject the shell, just like the real steel.
If mowing down targets western style is your idea of a great time, grab your iron and hit the range with the Legends Cowboy Lever-Action Air Rifle.
Load, cock, fire, reload, and hear the cartridge hit the ground – the CO2 version of the Legends Cowboy Rifle will put you back in the Wild West. And although it shoots steel BBs, its underlever operation and loading shell ejection make it feel just like a repeater from the old days. The classic design and antique finish, based on legendary Winchester models, add to the overall effect. 
The Cowboy Rifle is also a winner when it comes to accuracy. It is easy to grip and has convincing design features, including an all-metal break-down frame. With its combination of advanced CO2 technology and nostalgic charm, this rifle is sure to offer plenty of fun.
Calibre: 4.5mm (.177) BB
Capacity: 10 rounds
Velocity: 572 ft/s
Length: 966 mm
Weight: 2526 g
Shot Count: 60 shots**
**number of shots can vary, depending on environment, temperature, quality of Co2, firing rate.

Age Verification
You must be 18 years of age or older to enter into the site.

You are not 18+ years old. We're sorry, you can't use the website.