Puppy 1/2 lb White Dummy Tennis Ball Small dummy Pack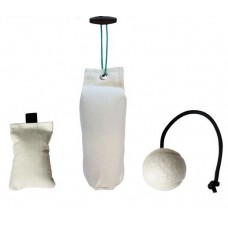 Puppy 1/2 lb White Dummy Tennis Ball Small Dummy Pack
White Puppy Dog Training Dummy pack
The Andy Cullen Puppy Pack
We are delighted to be working with renowned Gundog Trainer Andy Cullen and bring to the market the NEW Puppy Pack designed by Andy.
Andy Explains -
At Laochin we use the white training aids from Sporting Saint to great effect. From the white tennis ball to the puppy dummies and beyond, we find they stand out more than any other colour to help assist the dog to succeed in its task hence promoting good practice and quicker results in training.
Please view the short video of Andy explaining what each of the items in the pack is used for and how you may benefit from using the products.
Pack Consists of -
White Tennis ball on a rope
1/2lb White Dummy
The New Shape Puppy Dummy in White
Age Verification
You must be 18 years of age or older to enter into the site.

You are not 18+ years old. We're sorry, you can't use the website.