HIK Micro Ultimate Thunder 2.1x 35mm 35mK 384x288 17um Smart Thermal Weapon Scope 60A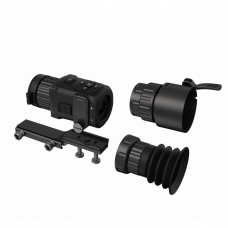 HIK Micro Ultimate Thunder 2.1x 35mm 35mK 384x288 17um Smart Thermal Weapon Scope 60A


The HIK Micro Ultimate Thunder uses interchangeable lens systems to deliver three thermal products in one compact system. The 35mm Thunder thermal module is the centre of the system with its 35mm lens system and 384x288px, 17um sensor delivering excellent image quality. The sub 35 NETD performance of the sensor ensures detection of small temperature changes and excellent performance in harsh conditions.
The thunder shares much of its software with the range of HIK Micro monoculars and anyone who has used one of the other products will instantly feel at home. The Thunder offers 4 colour palettes, white-hot, black hot, red hot and fusion. The thunder also connects to the T-Vision app to seamlessly share or record your shooting experience.
The ultimate thunder is supplied with a range of lenses and accessories that allow you to use it in a variety of configurations. Attach the riflescope lens and your thunder will show you a reticle and zeroing menu, add the supplied Picatinny rail and securely attach it to your rifle and you are ready to start shooting. Remove the rail and disable the reticle and you have a high performance thermal monocular.
Swap the interchangeable lenses and your thunder will automatically change to the clip-on software, you are now ready to use the scope clamp to add the thunder to the front of your standard optical scope, transforming it into a thermal riflescope. The easy to use zero menu allows you to adjust the Thunder's screen to match the zero point of your rifle. Then you can quickly remove or add the thunder without any shift in your point of impact.
This version of the ultimate thunder is supplied with the 60A scope clamp suitable for scope bells in the following sizes 62-66mm.
More Information
| | |
| --- | --- |
| Brand | HIK Micro |
| Popularity | HIK Micro Ultimate Thunder 2.1x 35mm 35mK 384x288 17um Smart Thermal Weapon Scope with 60A Scope Clamp |
| SKU | HM-TH35-ULT60A |
| Unit Type | Thermal |
| Colour Palettes | Yes |
| Detection Range | 1200m |
| Display Resolution | 1024x768 |
| Display Type | LCOS |
| FOV @ 100 yards | 10.0° |
| Magnification (Digital) | 8x |
| Magnification (Optical) | 2.1x |
| NETD | <35mK |
| Objective Lens Diameter | 35mm |
| Operating Temperature | -20/+40°C |
| Pixel Pitch | 17μm |
| Refresh Rate | 50HZ |
| Sensor Resolution | 384x288 |
| Video / Sound Recording | Yes |
| WiFi | Yes |
Specs
Main
Sensor: 384×288px @ 17µm
Objective Lens (Focal Length): 35 mm / F1.0
Detection Range (Human 1.8m x 0.5m): 1235 m
Magnification (optical): 2.14x


Sensor
Type: Uncooled Focal Plane Arrays
Resolution, pixels: 384 × 288 px
Pixel pitch, um: 17µm
Frame rate, Hz: 50 Hz
NETD: <35mK


Optics
Objective lens: F1.0
Magnification (optical): 2.14 x
Magnification (Digital): 1x, 2x, 4x, 8x
Field of view: 10.0° × 8° (H × V)
Recoil resistance: 750g/ms = 6750 J


Display
Type: 9.9 mm LCOS
Resolution, Pixels: 1024 x 768
Colour Palettes: Black Hot, White Hot, Red Hot, Fusion
Picture in picture: Yes


Reticle Options
Number of preloaded reticles: 5 Reticle choices
Reticle Colours: White, Green, Red


Video Recorder
Video recording: Yes
Picture snapshot: Yes
Built-in memory, GB: 16


Additional features
Hot tracking: Yes
WIKI Hot spot: Yes
T-Vision App support: Yes


Environmental
Degree of protection, IP code: IPX7
Water protection: Protected against temporary submersion in water
Operating temperature range: -20 °C to 55 °C


Weight & size
Dimensions, mm: 187.2 mm × 62.5 mm × 59.2 mm
Weight, Kg: 0.41 kg


Power Supply
Operating time on battery (WIFI & Hot tracking disabled): 4.5 hours continuous running
Charging interface: USB-C
Battery type: Replaceable CR123A


Warranty
Main Unit: 3 Years
Battery: 2 Years
Attributes
Hot Product
General
Google Merchant Center Category
Age Verification
You must be 18 years of age or older to enter into the site.

You are not 18+ years old. We're sorry, you can't use the website.