Infiray EYE II E3 Max Thermal Monocular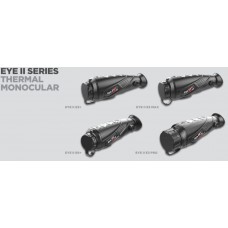 Infiray EyeII E3 Max Thermal Monocular
Eye 2 E3 Max Specifications
InfiRay Xeye E3 MAX V2.0 offers uncompromisable durability (IP66) and performance. The high-tech 12 um core with 384x288 px resolution assures a sharp picture and the 35 mm objective lens allows manual focusing. The HD micro display has a resolution of 1280x960 px with 50 Hz refresh rate.
This thermal device is capable of detecting a human being from 1800 m in pitch-black darkness.
The battery will last for up to 7 hours with Wi-Fi and Hot Spot functions (seeking of heat signatures) turned off. You can also capture photos and videos. This model also comes with picture-in-picture (PIP) feature, rangefinder, digital compass and motion sensor.
One of the biggest advantages that this device has is the option to use it both during the day and night. Not even unfavourable weather conditions like rain, fog or snow will stop you.
Key features
2x, 4x magnification
3,5x - 14x digital zoom
1800 m detection range
35 mm objective lens
Hot Spot, rangefinder, Wi-Fi
Attributes
Hot Product
General
Google Merchant Center Category

Age Verification
You must be 18 years of age or older to enter into the site.

You are not 18+ years old. We're sorry, you can't use the website.