Guardian Canterbury Leather 100 Cartridge Bag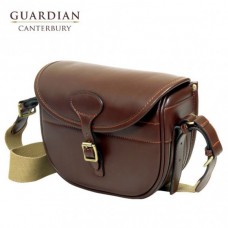 Guardian Canterbury Leather 100 Cartridge Bag
Guardian Canterbury Cartridge Bag Combining premium grade chestnut leathers and traditional designs the Canterbury collection has been carefully crafted to produce a range of products renowned for their functionality and classic elegance. Hand finished to a classic design the Canterbury cartridge bag holds up to 100 cartridges and benefits from a speed loading flap.
Capacity: 100 - 125 loose Cartridges Finish:
Chestnut Leather Lining: Red Felt
Approx Dimensions (L x H x W): 31cm x 21cm x 11cm

Age Verification
You must be 18 years of age or older to enter into the site.

You are not 18+ years old. We're sorry, you can't use the website.