Browning 800 Mag .177 Pellet Spring Air Pistol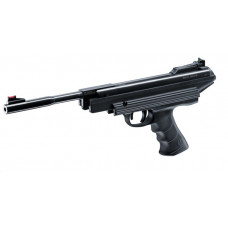 Browning 800 Mag .177 Pellet Spring Air Pistol
This Browning pistol is ideal for those looking for a break barrel spring handgun. The gun is suited to target shooting or short range dispatch of garden pests.

The gun is from Browning who have a reputation for high build quality and reliability and this spring pistol is no different. The gun is pellet firing and chambered in the more accurate .177 calibre.

The gun is fitted with adjustable fibre optic sights that allow for accurate targeting. The gun has a manual safety.
Specification
Calibre : .177

Barrel Length : 9.0"

Overall Length : 18.0"

Sights : Adjustable Fibre Optic

Trigger Pull : 4.0 lbs

Action : Break Barrel

Safety : Automatic

Weight : 3.9 lbs

Age Verification
You must be 18 years of age or older to enter into the site.

You are not 18+ years old. We're sorry, you can't use the website.