Umarex PPQ Air Pistol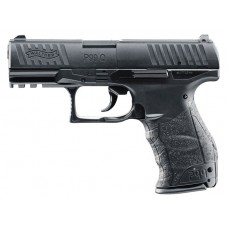 Umarex PPQ Air Pistol
The PPQ Air Pistol is a pellet/ BB repeater powered by one 12g CO2 cylinder that hides in the grip of the BB pistol. An integrated accessory rail underneath the muzzle is a great place to add a tactical flashlight or an airgun laser.
The Walther PPQ CO2 pistol has a manual slide lever safety, single action trigger, and a fixed blade front sight and an adjustable rear sight. This BB replica is not only a great BB gun for some fun plinking, but also makes a great target shooting and training pistol.
Caliber .177 Action Single Power CO2 Capacity 8-shot Barrel Length 3.9 Brand Walther Safety Type Manual Slide Lever Rear Sight Type Adjustable Front Sight Type Fixed Blade Ammo Type .177 Pellets, 4.5 BBs Total Length in Inches 7 Velocity- FPS 360 Umarex PPQ Co2 Gun Our Price £129.95 Due to the Current Gun Laws in the UK we cannot post air weapons direct to your door, we can only supply the ammo, spares and accessories by Mail Order, however you can collect all items from our store or we can send Air Weapons to your local Gun Shop. Air Pistols & Air Rifles have to be collected from our Warehouse, unless there is an RFD Dealer in your area who will accept the gun on your behalf, for a small fee. Ask for details! AIR GUN LAW AND GUIDELINES All airgun sales must be completed by way of face to face sales with proof od I.D required It is an offense for anyone under the age of 18 to carry an air gun, or ammunition in a public place unless accompanied by a person over the age of 21, even if the gun is covered. It is an offense for anyone between the age of 14 and 18 to shoot an air gun without the supervision of a person over the age of 21. It is an offense for anyone under the age of 14 to own, hire or buy an air gun. It is an offense to shoot an airgun beyond the boundaries of private land, where you have been given permission to shoot.
Age Verification
You must be 18 years of age or older to enter into the site.

You are not 18+ years old. We're sorry, you can't use the website.