Air Arms MPR 10 Metre Precision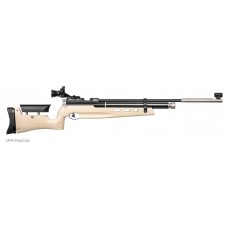 Air Arms MPR 10 Metre Precision Air Rifle
Suitable for 10 metre and Bell Target
The MPR 10m Precision is a versatile, incredibly effective multi-positional rifle.
Adult-sized match shooting in multi-role format
Inside the Air Arms 10M Precision everything's in balance. The firing valve is designed to be self-regulating, so as the pressure changes in the rifle's air reservoir, the firing valve adapts its operation to keep the Precision's shots consistent and right on target.
The rifle also keeps itself protected from mechanical failure via its on-board air filter, so peace of mind can be added to confidence and consistency, all of which allow the shooter to concentrate purely on hitting the target, and making the most of this rifle's outstanding potential. Each shot is released by a sensitive, adjustable, position-variable match design trigger unit and the on-board air reserves can be monitored at-a-glance via a hi-viz pressure gauge.
All in all, when you need to hit the target, the MPR 10M Precision puts you in a great position.
Features:
Single shot bolt operated action
Adjustable rubber butt pad with optional metal butt hook available
Multi adjustable match trigger
External & internal accessory rail
Precision length muzzle end
Dioptre sights with 4 element sizes
Removable cylinder
Adjustable cheek piece
In-line 20 micron filter
Butt pad spacers to extend length
Optional barrel and stock weights
Colour options
Age Verification
You must be 18 years of age or older to enter into the site.

You are not 18+ years old. We're sorry, you can't use the website.