Brothers in Arms M4 Co2 Powered 4.5mm BB Air Rifle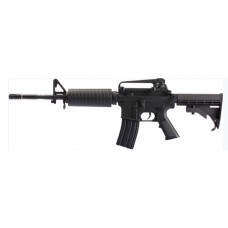 Brothers in Arms M4 Co2 Powered 4.5mm BB Air Rifle
Brothers in Arms M4 Semi Auto CO2 Tactical
Air Rifle Specification"The "Brothers in Arms® series of replica, iconic 20th century, weapons, is produced for Lee-Enfield (Guns) Ltd, to honour the combatants of all nationalities, who fought and died in dreadful conflicts, in the world's bloodiest century. Models in the range include: the Mosin Nagant M1944; the Kalashnikov AK-74; the M1911 A1 and-perhaps the most iconic of them all-The Lee-Enfield SMLE®.
Originally developed by Colt, the M4 was officially accepted into service by the U.S. military in 1994, to replace the older Colt carbines. It first saw action in the hands of U.S. troops deployed to Kosova in 1999 in support of the NATO peacekeeping force. It would subsequently be used heavily by U.S. forces during the Global War on Terrorism.. In the U.S. Army, the M4 largely replaced submachine guns and side arms because of the M4's superior stopping power and is better able to penetrate modern body armour. In addition to Colt, the M4 has also been manufactured by Remington and latterly, F N Herstal. For many, the M4 is the very epitome of the modern military firearm."
Based on the ultimate warfighter rifle, the M4 Carbine, incinerate targets with blistering semi-auto shots and a real steel feel fueled by a single CO2 cartridge. Able to send .177 BBs downrange at over 495 fps, the HellBoy features full-metal construction throughout the barrel, receiver, and the 18rd BB magazine.
Use the included open flip-up sights or remove the rear sights to expose a 5.5" Weaver/Picatinny rail. Each of these airguns is field-strippable just like a real M4, and each includes integrated swivel studs for easy carrying options. Its adjustable rear stock can be set to your preferred pull with a press of a button.
Age Verification
You must be 18 years of age or older to enter into the site.

You are not 18+ years old. We're sorry, you can't use the website.