Walther Nighthawk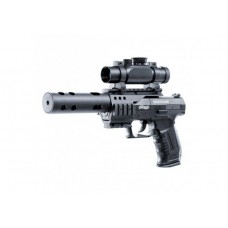 Walther CP99 Walther Nighthawk
Umarex Walther Night Hawk
The Walther P99 is a semi-automatic pistol chambered in .40 S&W or 9×19mm Parabellum. It was developed for law enforcement, security forces and the civilian shooting market and is used by the German and Polish Police and the Finnish Army's special forces and military police.
This CP99 Nighthawk by Umarex (fully licensed by Walther) is a CO² powered, semi-automatic, .177 lead pellet firing air pistol with a metal top slide, polymer frame and true to the original it carries authentic markings. This Nighthawk variant comes fitted with a accessory mounting system, a detachable suppressor and a red dot aiming system.
Supplied with ABS carry case.
Features
Single or double action trigger
Picatinny accessory rail system
Manual safety catch
Metal Slide
2x8 round magazine
Detachable suppressor
Red dot aiming system (11 settings)
ABS carry case.
Specification
Length: 248mm
Age Verification
You must be 18 years of age or older to enter into the site.

You are not 18+ years old. We're sorry, you can't use the website.