Caesar Guerini Invictus II Sporting Limited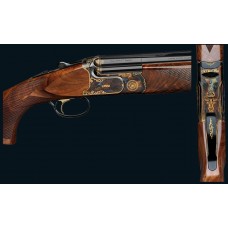 Caesar Guerini Invictus II Sporting Limited
Caesar Guerini Invictus II Sporting LTD with stunning action and walnut stock
In our ongoing pursuit to make the best Target shotgun possible, Caesar Guerini created the Invictus. Featuring the greatest advancement in over-under durability in many years – the Invictus System. This revolutionary new system completely changes the way the barrel and action lock together when the gun is closed, making the whole system stronger. Additionally, all locking surfaces are now modular, creating a gun that is many times more durable than a traditional over-and-under shotguns.
​
The Invictus II has a colour case hardened action adorned in gold highlights.
​
The gun is Non Autosafe, Multichoke & has CG U.K's 10 Year Mechanical Warranty.
​​
Available in 12GA 30" or 32"
Age Verification
You must be 18 years of age or older to enter into the site.

You are not 18+ years old. We're sorry, you can't use the website.