Infiray Eye II E3+ Thermal Monocular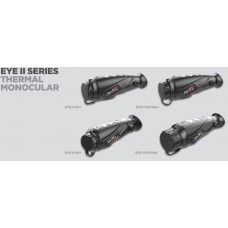 Infiray EyeII E3+ Thermal Monocular
Eye 2 E3+ Specifications
17um pixel size.
19mm focal length ( 2 x extender lens available )
Embedded with IRay independently developed high performance VOx detector.
720 x 540 high resolution display, Delicate image, Unique intelligent algorithm to reduce the noise to highlight the target, Clean Picture.
High Sensitivity NETD≤50mk
Built in WIFI, Live video transmission. Support max four mobile devices simultaneously connection. With video output interface,can be connected to the analog monitor through the video cable.
25Hz/50Hz Frame Rate,Real-time Display.
Photos, videos, laser pointer, LED lighting and 8GB built-in storage capacity.
Attributes
Hot Product
General
Google Merchant Center Category

Age Verification
You must be 18 years of age or older to enter into the site.

You are not 18+ years old. We're sorry, you can't use the website.